Subtitle
I recently became a biker: only on Spring 2000 I bought my first motorbike, a Suzuki GS850G - 1983), but now I'm trying to take back the time I've lost in this field: now, my car is just my "secondary transportation system".

I used my GS850G for one year, then I had the possibility to buy a Suzuki GSX-F 600, that I owned until May 2003. GSX-F 600 isn't a top-end racing bike, nor the most comfortable cruiser, nor the fashion-bike of the moment but... it works well, it has enough power for the normal street use, it's cheap, and it can give some nice sensation even in sportive riding.

In the meanwhile, I bought together with my brother an old but still "kicking" 1990's Suzuki GSX-R 750. We use it to have fun on normal roads but mainly on circuits.

So, replacing the GSX-F 600 with the brand new Yamaha YZF-R6, a much more sportive and "extreme" bike, has been a sad thing from some points of view.

Less than one month from its purchase, my new R6 was stolen. I've spent summer 2003 without my bike, and on half August 2003 I bought another one. So, I can just do one thing: I wish worst luck and bad sufferings to those who had the nice idea to steal it. Afterwards, the second R6 got stolen as well. Any other comment is useless.

Despite of my "supposedly mature" age, from time to time I like to have a sportive ride on a circuit so, each time I can, I try to slide with my knees and my boots (well, with my bike wheels as well) on the surface of nearby circuit (actually not just nearby, since we've gone to run to the international Circuit of Misano Adriatico and Mugello)...
---
Click on the pictures to see them in normal size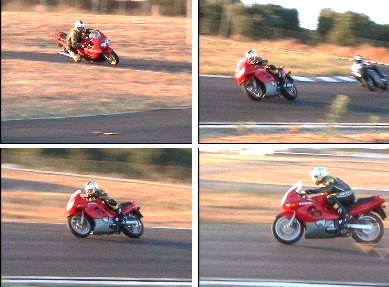 Pictures from a video - July 2001

Other pictures - June 2002


Pictures from a video - june 2003 (MotoML Day in Misano)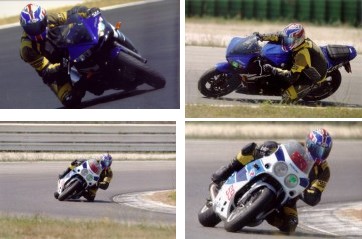 Pictures taken in june 2003 (MotoML Day in Misano)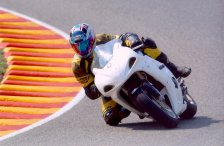 Picture taken in june 2004 (Mugello circuit)